God loves the South Bay. Sometimes the South Bay is beautiful, sometimes it is broken, and sometimes both. So how does the heart of God respond?

Jesus came to celebrate the beauty of all he made, while simultaneously moving toward what is broken in order to heal it. What would it look like for a church to have God's heart for the South Bay?
For every 1 Southern California church that opens, 4 are closed.
Nearly half of South Bay residents are unaffiliated with a religious organization.
Knowing Jesus Changes Everything
Jesus came to bring his beauty into brokenness. The cross is a snapshot of what his love looks like. It's as if he's saying two things at once: yes, it is this broken; and yes, my love is even bigger than this brokenness.

What does it look like for a church to seek not only the experience of that love, but to love the South Bay as God loves it - celebrating the beauty and seeking to enter into the broken places and pains?
Over the last 10 years, God has used Pacific Crossroads Church to love LA. PCC has now begun the process of planting daughter churches across Los Angeles. Our hope is to share with the South Bay how God has been transforming and healing broken lives like ours.
Pray for our plant with us. Sign up here for prayer emails if you would like to be a part of our prayer team.
Jesus gave everyone unique gifts. If you'd like to put your gifts to use, we'd love to have you on our team.
Lives transformed by God's power.
Renewing the South Bay for Christ.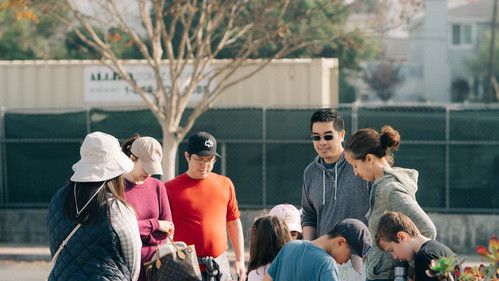 Jan 13 | 10:00 AM @ West High (cafeteria)

We found our worship space! Join us as we pray for our new home and begin imagining what God can do in and around our neighborhood.
Jan 27 | 10:00 AM @ West High (cafeteria)

More info coming soon. Shoot us a quick email via the contact form below so we can add you to our newsletter list. We'd love to stay in touch!
Russ & Amanda Hightower have served in New Jersey, Tennessee & Mississippi. They are glad to be here and are excited about what God is doing in the South Bay.

Russ has been a pastor since 2001. Amanda loves discovering culture and specializes in ESL (English as Second Language). Their children, Hayes & Emerson, keep them humble.
Christina accepted the role of Director of Ministries at PCC South Bay and is incredibly excited about making the South Bay church an incredibly warm, hospitable, and discipleship creating environment for everyone on the spectrum of faith from the non-believers to the cheerleaders.

She loves the South Bay! Four and a half years ago, she moved to the South Bay from New York City and that is where she fell in love with Jesus and also met her husband. Her life motto is to follow and obey God's will and go wherever He takes her and her husband!